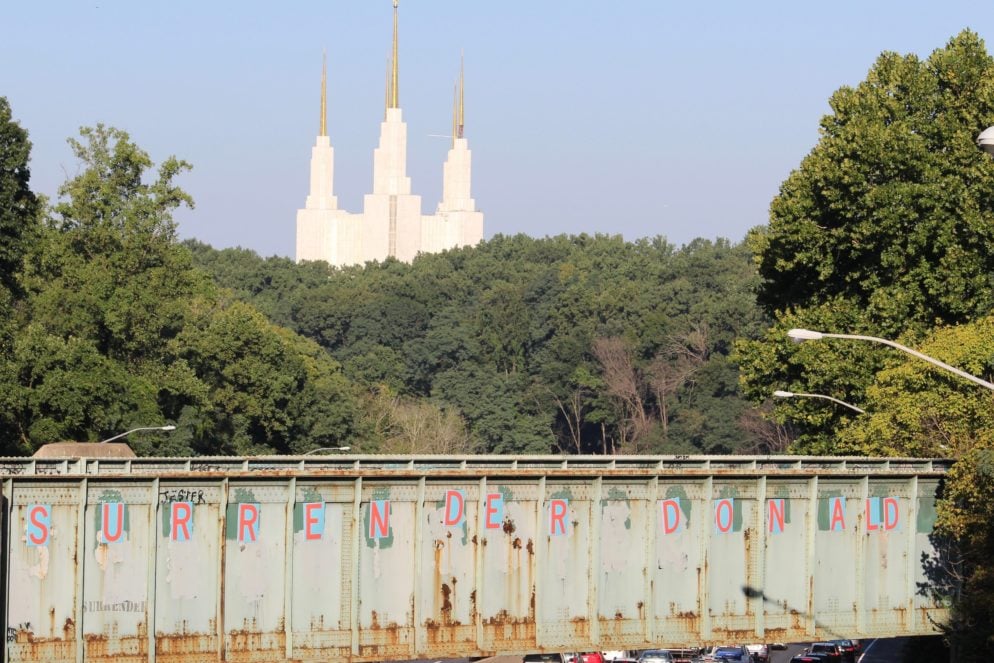 From Washingtonian, AUGUST 24, 2018
A DC-based PAC run by Twitter star Claude Taylor is claiming responsibility for the "Surrender Donald" lettering spotted on a bridge over the Beltway early Friday morning.

Decades ago, the bridge—which frames a view of the Mormon temple—was famously graffitied with the words "Surrender Dorothy." A photo of the wag's work, with the temple rising behind it like the city of Oz, became a local icon.

This new version is apparently the work of Taylor and his Mad Dog PAC. Taylor tells Washingtonian that the sign, made of easily removable letters that minimize property damage, was installed between 4 and 5 am on Friday morning. A small group of PAC volunteers gathered to place each letter on the famous railroad bridge. Taylor says he wasn't actually there when the letters were put up, but he came up with the idea and spearheaded the stunt.

Taylor, whose PAC raises awareness for progressive issues and pushes to de-seat Republicans with billboards and balloons, explains that sales of the PAC's Donald Trump "traitor" balloon (which goes for $20 a pop) helped cover the cost of the letters.
An alum of the Clinton White House and presidential campaign, Taylor rose to web prominence as a notable Trump antagonist on Twitter.
The sign has been met with enthusiasm from longtime Washingtonians—including the man behind one of the more memorable bits of protest art from the 1980s. "I myself am very much against graffiti, but I think to put 'Surrender Donald' in that spot is pretty clever and priceless," says Dischord Records co-founder Jeff Nelson, a force behind DC's famed 1980s "Meese is a Pig" poster campaign. "Definitely good to see all the political activism."
The idea also has the approval of Ann Principe, who was involved with the original "Surrender Dorothy" sign. "I had not seen "Surrender Donald" but that is hilarious," she says. "Very clever." A spokesperson for the LDS temple, meanwhile, declined to comment.
Read the original article here: https://www.washingtonian.com/2018/08/24/mystery-solved-heres-who-put-that-surrender-donald-sign-up-over-the-beltway/
While you're here, throw us a bone.
Mad Dog is thrilled that you're enjoying this article. But we still need your help.

Our numbers are growing. Our voices are being heard. Our campaigns are making a difference. Help us continue to fight the good fight. Consider a donation to help support the work of Mad Dog PAC today.